Sustainability
in deeds,
not words
Too easy to walk about green and fall into the greenwashing pit. We will describe what sustainability in buildings is by listing what is not.
It is not sustainable: using materials from extractive sources and energy-intensive industrial processes with high CO2 emissions. Both concrete and steel fall into this category.
The solution lies in limiting their use as much as possible, using them only for the foundations and making the rest of the building with sustainable materials.
There is a new construction technology that, instead of emitting Co2, keeps it inside. It's called Mass Timber, and it's one of the most revolutionary building techniques of the last few centuries. So revolutionary that in Europe and America, its expansion rate is 30% per year.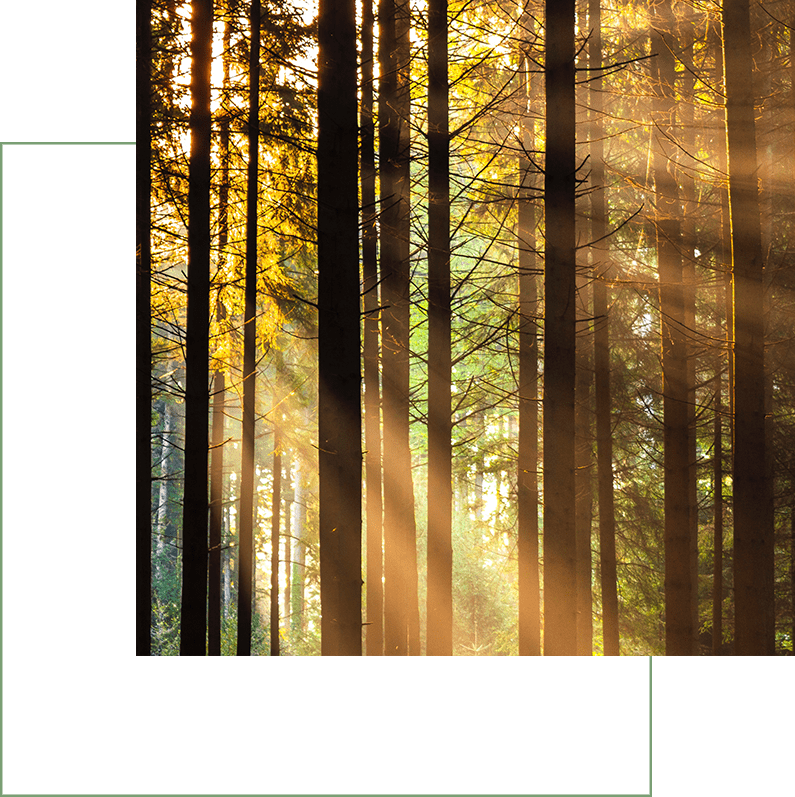 The alternative to concrete & steel
Mass Timber is an engineered wood product that uses fir and other softwood species as raw materials. Its sustainability derives from being biogenetic or subject to life and reproductive cycle. One or more seedlings are planted whenever we cut down a tree, and the process can repeat itself indefinitely.
In managed forests, trees are felled before the end of this lifecycle. The carbon remains within the harvested timber. All timber products, including CLT buildings, act as carbon stores. Effectively, when we build in timber from sustainably managed forests we are increasing the capacity of the world's carbon sink. The scale of today's construction industry offers the opportunity to create a new carbon reservoir within the fabric of timber buildings.
Embodied carbon and operational carbon emission. Why are they so critical?
The built environment is the main contributor to CO2 emissions (40%) globally. Its emissions are divided into embodied carbon and operational carbon.
Embodied carbon includes any CO₂ created during the manufacturing of building materials (material extraction, transport to manufacturer, manufacturing), the transport of those materials to the job site, and the construction practices used.
Put simply, embodied carbon is the carbon footprint of a building or infrastructure project before it becomes operational.
Operational Carbon: The amount of carbon emitted during the operational or in-use phase of a building. This includes all energy sources used to keep our building warm, cool, ventilated, lighted and powered. Along with all the other operations (management, and maintenance) to keep the building efficient.

IH

is the only company to break the impact of both embodied and operational carbon.
By implementing the design and construction criteria of MMT, IH achieves the goal of a zero-emission building and, going even further, can produce more clean energy than it consumes.
Contact us
We look forward to realising your dream home.