A REVOLUTION IN CONSTRUCTION
We embrace a new construction criteria and make use of innovative technology to make performance real and easily achievable.
We meet performance targets by revolutionising how we design and build, moving away from traditional construction criteria (onsite "wet construction") and adopting an innovative construction framework:
Mass Timber Technology, an aesthetically beautiful, low-carbon, dry-construction alternative to concrete or steel.

A REVOLUTION IN CONSTRUCTION
About Mass Timber Technology
The MTT is an authentic industrial revolution in construction.  Building with MTT is qualitatively better, more efficient, and sustainable.
MTT technology makes use of integrated design and execution processes (BIM), setting a new supply chain standard by reducing time and resources from the project to the completion of the building.
Much of the manufacturing of mass timber products, particularly CLT and glulam, consists of the production of bespoke structural components to serve the needs of a specific, one-off project.

THE MASS TIMBER REVOLUTION
Lean & Digitalised Technology
Even before a different use of materials, the MT revolution reveals the dematerialisation and lean streamlining of the novel process due to digital technology implementation.
A developed use of the web and the sharing platforms have erased distances making it possible to partner with people and entities physically distant from each other, broadening the horizons of knowledge, sharing concepts and resources and speeding up the entire process efficiently.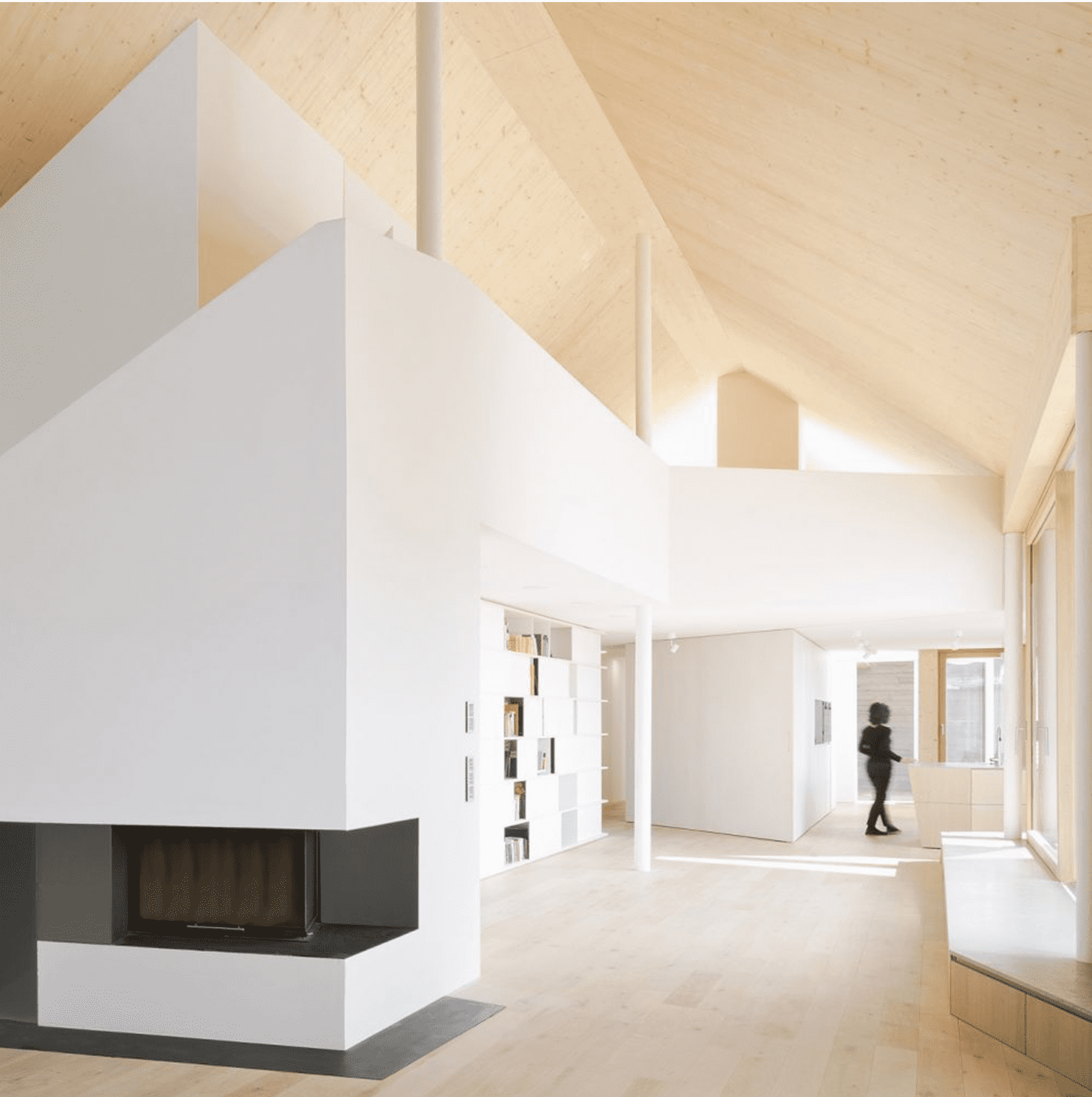 The outcomes highlight the efficiency of the integrated digitalised  process:
shared design platform process
a high construction speed
accuracy in material use
lack of waste of time and materials
lego logic assembly on the construction site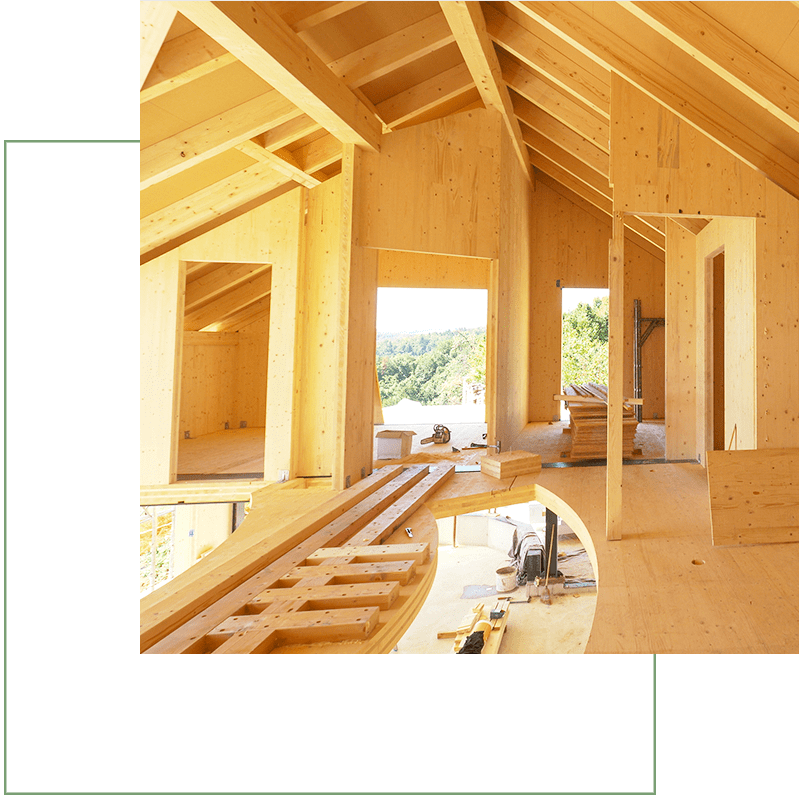 THE MASS TIMBER REVOLUTION
Quieter, safer…
and 50% faster
The use of MTT in construction economy is considered the most significant benefit and biggest cost saving associated with this system. Typically, the overall building scheme will be 50% faster than an equivalent scheme in conventional construction.
This time saving is not only the result of the speed at which the pre-fabricated elements of CLT are erected, but the outcome of a significant time savings in the later stages of construction. These gains are principally acheived through the accuracy of the finished structure, the structural stability, concurrent working and the ease of fastening into timber. Both installation of the panels and subsequent works are easier, quieter and safer, reducing or completely avoiding wet construction methods and reducing the number of personnel required to erect the superstructure.
SUPERIOR COMFORT & WELLBEING
Wood lies at the heart of this revolution, which, integrated with computational design techniques and industrial digititalisation processes, has paved the way to a new building technology with 4P features:
Precise. Prompt. Predictable. Powerful.

MTT makes any other construction process obsolete and quitting any typical commodity-oriented model.
The MTT rethinks wood as an innovative product using coniferous wood boards to build wall and slab panels with precise characteristics.
In light of the environmental challenges architecture faces, mass timber is recognised as one of the most promising building materials for present and future time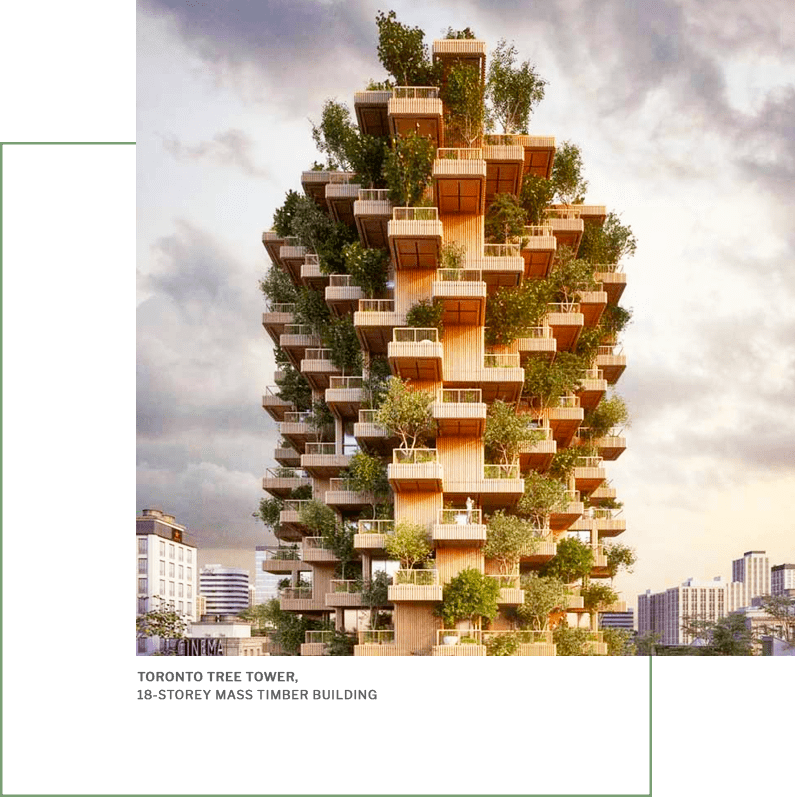 THE MASS TIMBER REVOLUTION
Cross-laminated timber being a wood engineered product has a great lateral and vertical load resistance.
As the interest of mid-rise wood frame buildings has increased, this product is recognized as a novel construction material appropriate for tall buildings.
THE MASS TIMBER REVOLUTION
Why is Mass Timber unique?
Mass Timber creates a new speciality in designing and building, with impressive performative potential: Designing and building in MTT require specific design skills, and an utterly different attitudes.
Design and construction techniques are so diverse from conventional ones that only a wood structural engineer with an MT master's degree is qualified to design.
Devoted manufacturing plants with high automation and numerical control machines fully integrate with design and assembly.
Sophisticated supply chain management and automated sequence are consistent with all the operations till the building completion.
Experienced assembly teams can erect a structure in days rather than months
Mass timber , strictly speaking, only relates to the building structure. A building, to be completed requires further steps: the addition of a thermal envelope, doors and windows of equivalent performance to ensure overall protection and proper equipment in line with the parameters of the Passive House

We are opening a new chapter in the luxury residential market combining
elegance and lightness with performance.
Innovhousing promotes and sets up the best possible housing concept in South Africa by boosting sustainable beauty and performative comfort.
Contact us
We look forward to realising your dream home.